Weekly Vietnam Economy News (22 – 28 June, 2020)
Vietnam reported a trade surplus of US $ 170 million in the first half of June
Vietnam registered a trade surplus of US $ 170 million in the first half of June, bringing the total surplus in mid-June to US $ 3.75 billion.
Maintaining the trade surplus is one of the remarkable achievements of the country's import and export activities in the difficult context of the COVID-19 pandemic.
Accordingly, from June 1 to June 15, Vietnam's trade turnover reached US $ 20.57 billion, up 3.3% (equivalent to US $ 651 million) compared to the second half of May, with export sales of reached 10.37 billion USD, down 5.3%.
As of mid-June, Vietnam has collected a total of US $ 110.56 billion from exports, down slightly by 0.7% compared to the same period last year, while spending US $ 106.81 billion of imported goods, decreased by 3.9% (equivalent to 4.34 billion USD) from the same period in 2019.
The RCEP agreement is expected to be signed by the end of 2020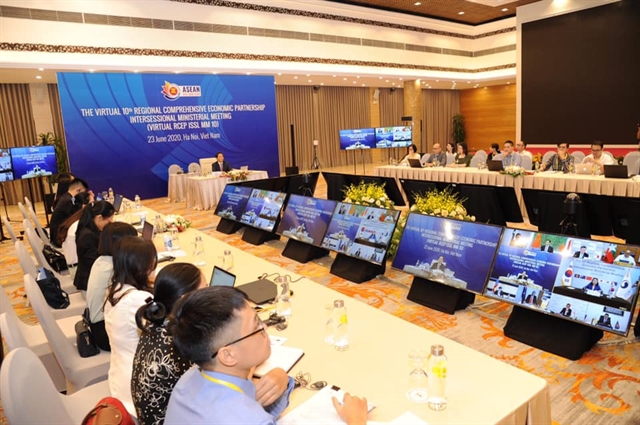 Vietnam has worked closely with ASEAN and its six partner countries to promote the early conclusion of full negotiations on the RCEP agreement and preparation for signing in November.
If signed, the RCEP agreement will create one of the world's largest economic bloc, as 16 countries together account for about 45% of the global population and more than 30% of the world's gross domestic product.
Industrial parks nationwide attract 6 billion USD of FDI
Vietnam has attracted 335 foreign direct investment (FDI) projects in industrial parks (IPs) and economic zones (EZs), with newly and additionally registered capital of US $ 6 billion in the first half of the year. , according to the Ministry of Planning and Investment (MPI).
By the end of June, 336 industrial parks have been established in Vietnam, covering a total area of ​​98,000 ha, according to data compiled by MPI.
Of the 57 cities and provinces that received foreign investment in the first half of the year, Bac Lieu attracted the largest part of the capital commitments with US $ 4 billion, or 25.5% of the total.
Ho Chi Minh City ranked second with more than US $ 2 billion, equivalent to 12.9% of the total, followed by Ba Ria – Vung Tau with US $ 1.95 billion, equivalent to 12.4%.
MPI reports that the number of FDI projects as of June is about 9,835 capital with about 197.8 billion USD, of which about 72.3% has been disbursed.
Regarding domestic investment projects, both IPs and EZs in the country have attracted about 282 projects in six months with total newly registered and increased capital of US $ 2.7 billion.
They brought the cumulative amount of domestic investment projects to 9,650, with a total investment of about US $ 99.6 million with disbursed investment accounting for 46.3%.
Compiled from many sources by LOOKOFFICE
To read more economy news for business and investment in Vietnam, you can click here: https://lookoffice.vn/economy-business-investment/news/
For Foreign companies want to start or expand businesses and look for an office in Vietnam:
CONTACT US
We offer a free consultation to support you to find a suitable Office For Lease In Ho Chi Minh:
Phone: (+84) 398 716 459 – Available via Whatsapp/ Viber/ Zalo
Email: contact@lookoffice.vn
Facebook: https://www.facebook.com/lookoffice.vn/