Vietnam's trade still saw a surplus of US $ 3 billion in the first four months
Vietnam announced a trade surplus of about US $ 3 billion in the first four months of 2020, up 3.4% from the same period last year, according to the latest statistics from the General Statistics Office.
Once broken, the domestic investment sector is estimated to have a trade deficit of US $ 7.1 billion over a four-month period while foreign-invested companies record a trade surplus of 10.1 billion. U.S. dollar.
Exports of domestic companies are estimated to have increased by 12.1% over the same period to US $ 26.45 billion in the period, accounting for 31.9% of the country's export. Meanwhile, FDI enterprises gained US $ 56.49 billion from foreign shipments, increasing by 1.5% and accounting for 68.1% of the total.
In April alone, Vietnam's exports and imports reached US $ 19.7 billion and US $ 20.4 billion, down 18.4% and 7.9%, respectively, compared to the previous month.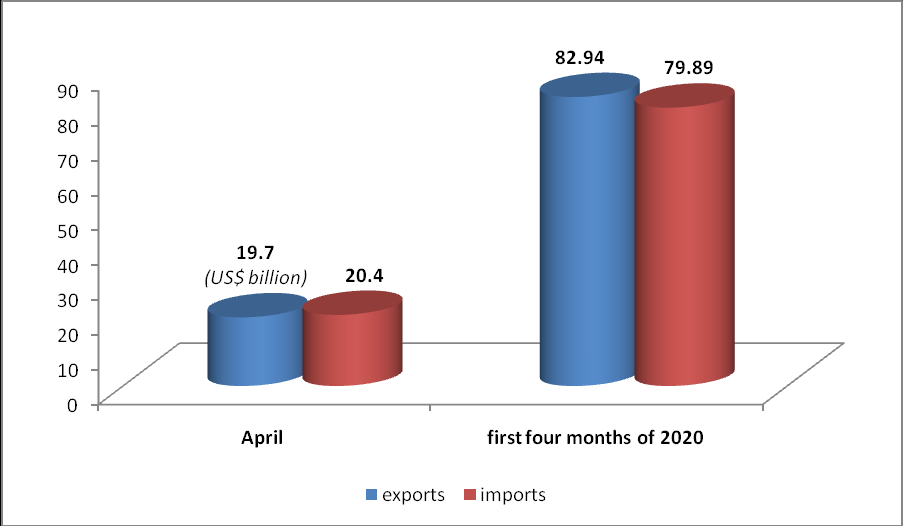 Overall, Vietnam's trade turnover may reach USD 162.83 billion during the period from January to April, up 3.4% from the same period last year, of which its export value may be amounted to 82.94 billion USD, up 4.7% compared to the previous year, and imports were estimated at 79.89 billion USD, up 2.1%, as reported by vietstock
During the review period, 15 items participated in the USD 1 billion export club, accounting for 80.1% of the total export value.
Increasing concerns about the possibility of trade suspension in major markets of Vietnam due to the Covid-19 pandemic, local companies have stepped up import and export activities in the last 10 days of March. , Samsung completed exporting its new smartphone.
As a result, phones and parts are expected to have the largest export revenue of all exports between January and April at US $ 16.2 billion, up 1.1% from over the same period and account for 19.5% of Vietnam's total exports.
VGP has reported that important export items of Vietnam include phones and accessories ($ 16.2 billion), electronics, computers and spare parts ($ 12.4 billion), apparel (8. , $ 9 billion), machinery, equipment and tools ($ 6.9 billion), footwear ($ 5.5 billion), wood and wood products ($ 3.4 billion), vehicles and tools tools (US $ 2.7 billion) and fishery products (US $ 2.2 billion).
In addition, electronic products, computers and components earned about 12.4 billion USD, up 28.6% over the previous year; garments with 8.9 billion USD, down 5.8%; equipment and spare parts with US $ 6.9 billion, up 29.6%; footwear with US $ 5.5 billion, up 1.3%; wood and wooden products with US $ 3.4 billion, up 10.1%; means of transport with US $ 2.7 billion, down 3.9%; seafood with US $ 2.2 billion, down 8.5%, among others.
The US remained Vietnam's largest importer for four months with 20.3 billion USD, up 13.4%. Followed by China (13.1 billion USD), EU (10.7 billion USD), ASEAN (8.2 billion USD), Japan (6.7 billion USD) and South Korea (6.2 billion USD). .
China was the largest exporter of Vietnam in four months with 22.7 billion USD, down 0.1%, followed by South Korea (15.5 billion USD), ASEAN (9.9 billion USD), Japan. Japan (US $ 6.4 billion), US (US) US $ 4.7 billion) and EU US $ 4.5
Source: GOV
For Foreign companies want to start or expand businesses and look for an office in Vietnam:
CONTACT US
We offer a free consultation to support you to find an suitable Office For Lease In Ho Chi Minh:
Phone: (+84) 398 716 459 – Available via Whatsapp/ Viber/ Zalo
Email: contact@lookoffice.vn