Are you looking for an office for lease in Ho Chi Minh City? The process of choosing a location for your office and making decisions can be quite difficult between the huge amount of ads and the mess of information. Your business or project can save significant personnel and rent when local knowledgeable people and the office rental market here help.
A Brief Overview of office for lease in Ho Chi Minh
We met a lot of customers approaching and learning about Ho Chi Minh City for the first time. We have prepared a simple map of areas in Ho Chi Minh City for you to have a brief information to select and find suitable location of office for lease in Ho Chi Minh City.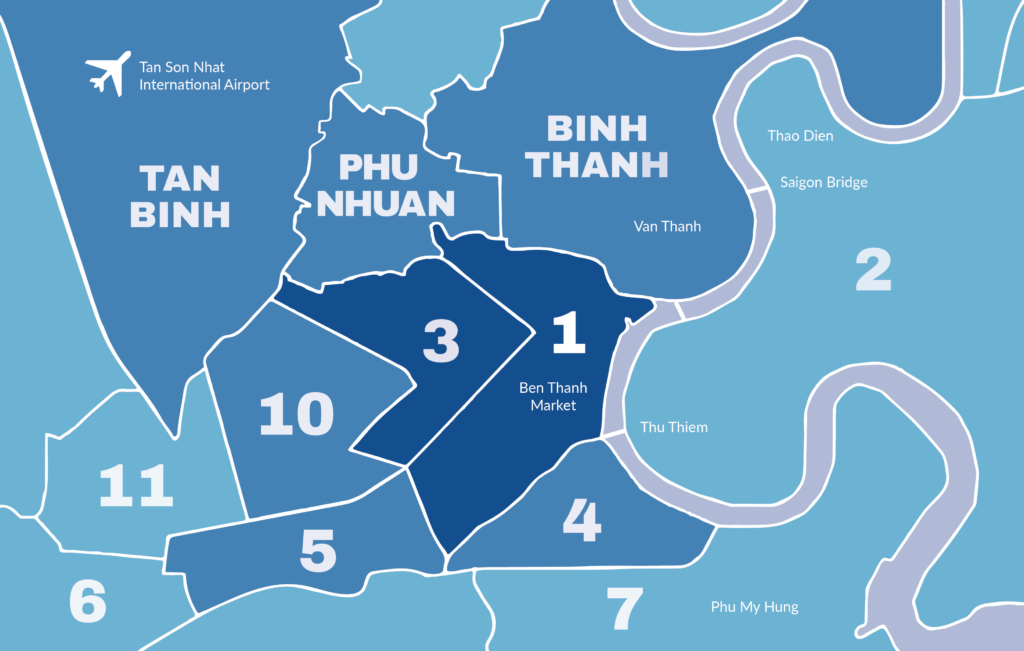 The Downtown Area
District 1 and District 3 can be considered as the downtown area of ​​Saigon. These districts are home to many large banks, corporate offices and embassies.
Grade A & B buildings with high-end locations are usually concentrated in District 1 with rents ranging from $ 35 – $ 65 / sqm (excluding management fee of $ 5 – $ 7 / sqm) and it is around $ 20 – 30 (not yet including management fee of $ 5 – $ 6) in district 3.
This is the highest rented area and it is difficult to rent – although these buildings usually provide tens of thousands of square meters of floor space, nearly 80-90% of the leased area has been filled, also noted that there are significant differences from a senior position and Outback of downtown area (lowest price of C-class buildings is around $ 15 with small buildings or non-branded houses)
The Inner Districts
Suburbs include District 4, 5, 10, Tan Binh, Phu Nhuan and Binh Thanh. Rents in these areas are usually more affordable and the office can be located near the homes of your local staff (because the downtown area is quite expensive, most local employees choose to live. in neighboring districts inland).
Districts 5 and 10 are traditional suburbs, with narrow buildings and a bustling, vibrant street life. Crossing a small river to the south, District 4 is the site of the old port and some major redevelopment. Crossing a small river to the north is Tan Binh and Phu Nhuan, the newer suburb is located near Tan Son Nhat airport. These inner districts can be great for international companies with modest budgets.
There are very few Grade B&A buildings in this area and very little vacancy due to low supply, rents for large buildings are around $ 20 – $ 25, and the rest is about $ 15 – $ 20 with average quality.
The Outer Districts
The outer districts include old areas such as District 6, 8, 11 and other areas. This is a relatively adjacent area with inner-city areas but the search density is lower. Rents are significantly cheaper, but this can cause intangible costs for your brand and employees on location and transportation: very few foreign companies choose to rent the area because of International companies in this field are not appreciated for their image or brand value.
The Emerging districts
Some outside districts are new, especially District 7 and District 2. Specific areas within these districts are very popular with foreigners: Phu My Hung in District 7 and Thao Dien in District 2. The infrastructure in these areas is very modern & high-class, the roads are widely planned, there are apartment towers, luxury villas / complexes.
Large office buildings are being concentrated in District 7 because this area has been invested and formed before District 2, but District 2 is a district with great potential on development directions and infrastructure in future
It is also worth noting that some outside counties are undergoing significant changes. For example, District 9 is located in the northeast of the downtown area. Home to a number of international giants, including Intel, the district has received significant investment in recent years and will soon be connected by rail infrastructure. Major developments are also planned for Thu Duc and Cu Chi: while these areas do not yet have the liveliness of the more central districts, they will certainly be kept an eye on them in the future.
What Should You Expect When Renting An Office for lease in Ho Chi Minh?
There is good news: wherever you hire, you can expect that talented employees can be found nearby, the internet connection will be quite good, the power supply will not be a problem and the nearby coffee restaurants are abundant
Traditional office buildings usually require a leasing commitment of at least 2-3 years and require a 3-month deposit, on-site parking is usually available at an additional monthly cost per motorbike / car. Usually buildings will keep the renter's price for 2 years. Note that the traditional office will hand over the empty office floor (non furnished) and the repair time for office set-up will be accepted from 1 week to 1 month depen on each buildings
You can consider service office or co-working space office for lease if your company size is under 10 people and only need small office space (20 – 30 sqm), this place provides you with workspace with full service, facilities and furniture available and flexible rental period. This can be a viable short-term option while you set up your company or project team.
Find out more about office for lease in Ho Chi Minh city
Of course, the list of locations provided above is not exhaustive. Ho Chi Minh City is a dynamic city that is changing at an incredible pace. There are many office building projects in progress and is near completion. Rents in the area and the buildings also change continuously each year.
If you want to inquire about an office location or start operating in Vietnam, contact us today. We offer a free consultation to understand your requirements and put you on the right track.
CONTACT US
Phone: (+84) 398 716 459 – Available via Whatsapp/ Viber/ Zalo
Email: contact@lookoffice.vn
Facebook: https://www.facebook.com/lookoffice.vn/