District 2 is a New, Modern & Smart Urban city in the future
District 2 is an urban district located in the eastern part of Ho Chi Minh City. District 2 is a newly urbanized district, where Thu Thiem New Urban Area is located in the near future; is a new financial and commercial center of Ho Chi Minh City.
1. District 2 Planning:
District 2 has a synchronous and modern planning suitable to the new trend
Following the modern trend of the new era, the age of technological civilization. District 2, Ho Chi Minh City has strategic plans and visions. Currently, the district 2 has been forming a series of new modern urban areas such as Thu Thiem urban area, Sala urban area, Cat Lai urban area, Palm City urban area, Marina Bay urban area. Thu Thiem, Sarah Thao Dien urban area, Thu Thiem Empire City urban area, Lake View City urban area, Citi Bella urban area, Cityland Binh Trung Dong urban area, Pho Dong Village urban area, Citi urban area Home, Ventura urban area, Spring Life urban area, An Phu – An Khanh urban area …
All wards of District 2 own in it a new urban area. That brings new and modern things to District 2 real estate compared to the remaining traditional real estate markets of Ho Chi Minh City. Thanks to that, District 2 will become more modern, modern and have a more civilized community system. District 2 promises to become a new center of the city.
With the advantage of having a lot of vacant land and adjacent to District 1, District 2, the city People's Committee has favored the city People's Committee to approve the plan to become a new center of economic, finance, sports and sport of the city. Within 10 years, District 2 will become the most beautiful urban area in Southeast Asia.
District 2 has an area of 5,017.96 ha, in the area of Eastern Ho Chi Minh City, adjacent to the existing central city, bordered as follows: East: border with District 9 through Ba Cua canal; the West borders District 1, District 4 and Binh Thanh District across the Saigon River; the South borders District 7 through Sai Gon River and Dong Nai Province across the Dong Nai River; the North borders Thu Duc district via Hanoi Highway and Binh Thanh District crosses the Saigon River.
2. Development vision: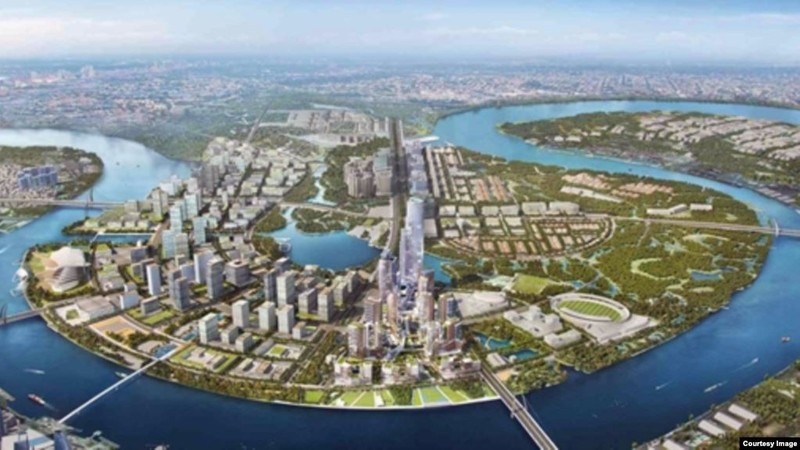 – Forming new urban areas such as Thu Thiem new urban area, Cat Lai industrial park, Rach Chiec sport and physical area, northern residential area of ​​Hanoi highway, Binh Khanh development urban area, etc.
– Modern high-rise housing model is a development trend in District 2, gradually replacing low-rise housing type, especially in areas with beautiful scenery.
– Large-scale technical infrastructure projects are being implemented in the area such as Ben Thanh – Suoi Tien Metro route, Phu My bridge, Thu Thiem bridge, East – West avenue, tunnels crossing the Saigon River … forecast to do. Urban structure changes, attracting big investment in the coming years.
– In addition, the economic structure of District 2 will shift from Industry – Small industry and Agriculture to Trade – Service – Industry – Culture – Sports and Tourism and will affect the usage direction. Land of the County.
The nature and function of planning in order to guide the adjustment of the overall planning task of District 2 to 2020 are determined in the future as: Service – Trade – Industry. The vision of urban development in District 2 in the future is still defined as an expanded urban district with the main functions of Trade – Services – Industry – Culture – Sports and Tourism.
3. Transportation infrastructure:
The interconnected transportation infrastructure is one of the factors that help District 2 constantly develop in the coming years.
From District 2, you can reach Phu My Hung center in just 15 minutes through Phu My Bridge, go to the center of District 1 only about 5 minutes through Thu Thiem Tunnel or Hanoi Highway.
Residents of District 2 want to go to Vung Tau in just 1h20 minutes, to Phu My industrial park only takes 45 minutes, very convenient for professionals working in industrial parks or high-tech parks.
A total of 4 bridges spanning Thu Duc District, Binh Thanh District, District 4 and District 7 and District 1 pedestrian bridges spanning Thu Thiem central square through District 1. Bridges connecting to District 1: Thu Thiem 1 Bridge, 2, 3, 4.
In addition, thanks to the proximity of the Ho Chi Minh City – Long Thanh – Dau Giay highway and the North-South Highway, it is also easy to move to the provinces of South Central and Central Highlands. In addition, the Ring Road 3 (My Phuoc – Tan Van – Nhon Trach) will help circulate Binh Duong New City – Ho Chi Minh City – Nhon Trach
The Parallel route linking District 2 with District 9 and the Dau Giay – Phan Thiet Expressway helps to shorten the distance between District 2 and District 9 through the urban districts and neighboring provinces.
Find out more About Office for lease in District 2: https://lookoffice.vn/office-for-lease/ho-chi-minh/district-2
CONTACT US
We offer a free consultation to support you to find an suitable Office For Lease In Ho Chi Minh:
Phone: (+84) 398 716 459 – Available via Whatsapp/ Viber/ Zalo
Email: contact@lookoffice.vn
Facebook: https://www.facebook.com/lookoffice.vn